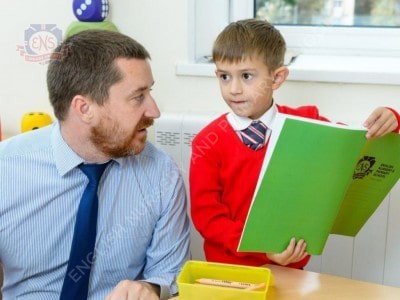 Mr Aaron
Reception Teacher
Education:
Global TOEFL College, Edmonton, Canada
Qualifications:
Teacher of English as a Second Language (TESOL)
I am originally from Hawkesbury, Canada. I was born in a big and friendly family - I have 3 brothers and a sister.

I was an energetic boy since my childhood: played hockey, attended swimming school. I got interested in studying foreign languages, when I was at school; it was easy and interesting for me. That`s why, I`ve made a decision to study languages and enter pedagogical college.

My degree gives me the opportunity to teach English for both children and adults. But working with young children attracts me more; the children are unique and energetic, responsive and talented.

It is my 11th year at ENS and I work with great pleasure here. I like to organize and conduct classes for children, especially lessons on the development of large and fine motor skills: modeling, appliqué design. Children are very passionate about the process, as the result they create beautiful works and happy to present them to their moms and dads.

I have lived in Russia for 11 years. I have been a volunteer in the charity organization for 2 years and for the last 6 years I have been teaching children.

I speak Russian; I studied it for 3 years at the University of Alberta, for 2 summers in Dubna and for a semester in St. Petersburg.

I enjoy travelling and I have been to many countries. In my free time I enjoy playing guitar, swimming, snowboarding, bicycling, going to the cinema and love trying new things.